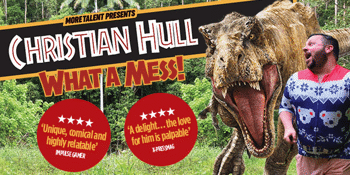 More Talent and New World Artists presents
CHRISTIAN HULL – WHAT A MESS
LATE SHOW!!
Smith Street Social (Darwin, NT)
Friday, 4 February 2022 9:00 pm
Due to popular demand, Christian Hull has added a SECOND SHOW! Tickets are limited so get in fast, before they're all gone.
Christian Hull is a disaster. He is afraid of the outdoors and almost everything else. This show is about those times he has had to fend for himself and it's almost definitely ended in near-death experiences.
After a sell-out stand-up debut at Melbourne International Comedy Festival, Christian takes his flagrantly frank, frighteningly honest, and disarmingly hilarious tell-all comedy show on the road!
Christian has built a huge audience from documenting his mess of a life all over socials. His hilarious characters, parenting parodies, paint guessing, and T-shirt folding escapades have earned Christian an ever-expanding army of almost three million online followers.
With a career trajectory taking him straight into the comedy and media stratosphere, a Christian Hull live show is not to be missed – book early!
★★★★ 'Hull is such a delight… his appeal is far-reaching and broad and the love for him is palpable.'
X-PressMag
★★★★ 'Unique, comical and highly relatable'
Impulse Gamer
_____________________________________________________________________________________________
Important Information For All Ticket Holders
: All ticket holders must acknowledge that the venue is or may become subject to public health orders or advice providing that patrons are vaccinated, are medically exempt from vaccination, or are able to provide evidence of their Covid-19 free status prior to entering the venue. It is a condition of the booking that patrons abide with any Covid-19 checking-in or verification procedures that the venue implements to address the public health orders or advice. For more information visit https://www.ausvenueco.com.au/safe-socialising-policy/