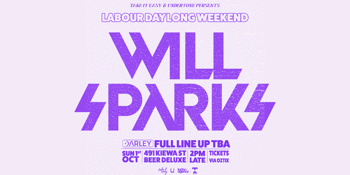 Take It Easy & Undertone
Take It Easy Day Party ft: Will Sparks
Beer DeLuxe - Albury (Albury, NSW)
Thursday, 25 January 2024 2:00 PM
An event like this only comes around once in a lifetime and we are absolutley wrapped to be bringing WILL SPARKS to Albury!
Join us for extra special edition of Take It Easy as we launch our first ever Day Party this labour day long weekend.
Supported by Darley making her returns to the border after smashing the club and fesitval circut earlier in the year.
Kicking off at 2pm there's no better way to party than knowing it's tools down on Monday, Albury's best locals will keep the dancefloor moving until late in the evening.
With all the bells on whilstles on the mainstage that means big sounds and even bigger production, experience the kings of Melbourne techno in an emersive experience you have to witness to belive!
Sparks first gained widespread recognition in 2012 with his hit single "Ah Yeah!," which becamea commercial success in Australia and internationally. He has since released numeroussuccessful tracks, collaborating with notable artists such as Hardwell, Steve Aoki & many more.In addition to his successful music career, Sparks is also a dynamic performer, known for hisenergetic live shows and enthusiastic fan base. He has played at some of the world's mostprominent music festivals, including Tomorrowland, Electric Daisy Carnival, Parookaville and AirBeat One