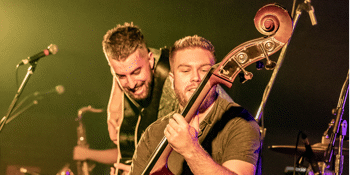 19 Twenty
The Lounge (The Royal) (Nundah, QLD)
Friday, 25 February 2022 8:00 pm
19-Twenty are electric with an infectious riff and groove-based blue-billy-grass-rockin'-roots band and will be stopping by The Lounge in Nundah for a special show February in 2022!
They've been whipping up a frenzy lately, performing their high-energy sonic-party nationally, headlining sell-out shows and festivals in all states and territories. Constantly on the road or in the sky, they have toured seven times around Australia and performed gigs throughout Europe including Belgium, The Netherlands & Germany.
Performing anywhere and everywhere, this straight-up 100% independent act has been blazing throughout Europe and Australia and gaining new music fans/ fiends from their live shows. Come along and see what they are all about!
_____________________________________________________________________________________________
Important Information For All Ticket Holders
: All ticket holders must acknowledge that the venue is or may become subject to public health orders or advice providing that patrons are vaccinated, are medically exempt from vaccination, or are able to provide evidence of their Covid-19 free status prior to entering the venue. It is a condition of the booking that patrons abide with any Covid-19 checking-in or verification procedures that the venue implements to address the public health orders or advice. For more information visit https://www.ausvenueco.com.au/safe-socialising-policy/