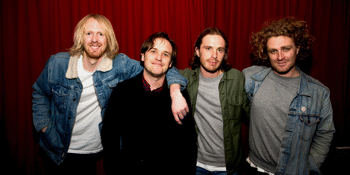 New World Artists presents
British India
with special guests
Wallaby Hotel (Mudgeeraba, QLD)
Saturday, 30 December 2023 8:00 pm
British India emerged from the underbelly of the Melbourne indie rock scene in with a love of music and a driving determination that turned four high school friends into a fierce garage band, who quickly gained a reputation for explosive live shows and the ability to write great pop songs.

A chance meeting with legendary producer Harry Vanda resulted in their critically acclaimed debut 'Guillotine' featuring the hit record 'Tie Up My Hands 'Along with relentless touring and support from triple J 'Guillotine' would achieve 20,000 sales and win them an AIR award for 'Best new Group' in 2007.

British India followed up with their 2nd album Thieves, this time to great fanfare. The single 'I Said I'm Sorry' saw the band back in the 'Hottest 100' for the 2nd time and the album debuted nationally at No 5 receiving 3 Aria nominations at the 2008 awards. By the years end British India had become one of the most popular rock bands in the country. They continued their assent, releasing Avalanche in 2010, yet another Top 10 debut.

The band turned a new corner in 2012 signing with Liberation Records and Mushroom Music. At Liberation, British India would release their two most successful albums to date, Controller & Nothing Touches Me. They scored their first Gold Record with the hit 'I Can Make You Love Me' selling over 50,000 copies on iTunes. In 2018 they released their 6th studio album Forgetting the Future again playing multiple sold out national tours.
Over a 10 year period British India notched up 8 entries into the Hottest 100, released 6 albums and have played at every major festival in the country and have headlined over 100 shows.