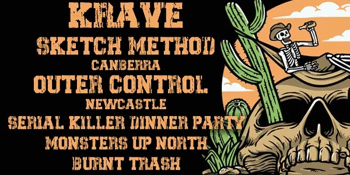 In The Fast Lane Presents
Mansfields Most Wanted
Feat. Krave, Sketch Method, Outer Control, Serial killer Dinner Party, Monsters up North and Burnt Trash
Mansfield Tavern (Mansfield, QLD)
Friday, 10 June 2022 7:00 PM
Get your tickets now to Mansfields Most wanted!!!

Kicking the night off will be our local weirdo band Burnt Trash with their mixed bag of songs that will lure you in and leave you with a melted face. They are Fast, they are slow, they are electric and punk... they are Burnt Trash don't miss them.
Next to take the stage will be Monsters up North a young Brisbane 4 piece Alt rock / Emo band with thunderous bass riffs and the melodic grooves in the raw vocals and guitars these guys are just exciting to watch and hear . With there new album release "Cemetery Weather " these young Lads have been getting a lot of attention lately and aren't to be missed .
Serial killer Dinner Party or Skdp as the locals know them are a rukus alt/punk band from both Bris and GC . They are known for energetic sets where anything can happen and will get you in that crazy mode .
Newcastle's Pop punk legends Outer Control will blast into there fast melodic skate style anthems. These guys are so catchy and funny . They really know how to put on a show and you won't know what hit you . They will be definate favourites of any punk and rock fan that hasn't heard them before.
Sketch Method , a 3 peice political punk band from Canberra . This is that raw fast punk that makes you want to jump around and run in circles and then also put your arm around a stranger and on the top of your lungs try and sing words you don't know but that's what this band has the ability to do . They are just special !
Headlining and taking the night out will be Krave . They are a 3 peice from Brisbane and are no newcomers to the top position as they have been gaining more and more popularity with every new release. They have fast heavy guitar riffs with the bass thumping in your face with an every so tight drummer they really will be the cherry on top !