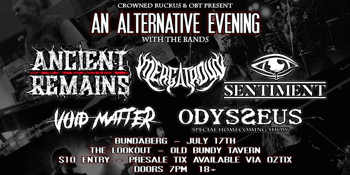 An Alternative Evening at Old Bundy Tavern
Ancient Remains, Mergatroyd, Sentiment, Odysseus, Void Matter
Old Bundy Tavern (Bundaberg, QLD)
Saturday, 17 July 2021 7:00 PM
North meets South in AN ALTERNATIVE EVENING at the Old Bundy Tavern!

Featuring well-known Brisbane acts ANCIENT REMAINS, bringing their Shredding Thrash/Melodic Groove, alongside fellow thrash-groovers MERGATROYD, alternative post-hardcore lads, SENTIMENT, and VOID MATTER - melody fused with raw energy drawing from many influences.

Also joining the bill are ODYSSEUS (Bundaberg) on their homecoming show after their "DOWN THE COAST AND INTO THE OUTBACK" tour, which saw the band play shows from Melbourne to Darwin; described as a journey between genres, reminiscent of 90's alternative acts mixed with aspects of the 70's psychedelic scene. THIS IS A NIGHT NOT TO BE MISSED!