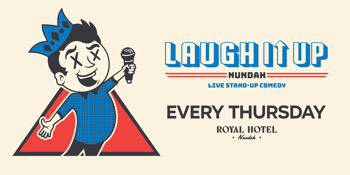 Royal Quarters & Guilt Free Comedy present
Laugh It Up!
Nundah's new home of Comedy!
Royal Quarters (Nundah, QLD)
Thursday, 14 December 2023 7:30 pm
Comedy is taking over Nundah twice a month with a new comedy show, Laugh It Up!

Indulge in a guilt-free night of laughter and entertainment at the Royal Quarters in Nundah, Brisbane. Join us for Laugh It Up!, an electrifying live stand-up comedy pro show, proudly presented by Guilt-Free Comedy.

Get ready to unwind and let loose as our lineup of top-notch comedians takes the stage, delivering an evening filled with rib-tickling humor and clever wit. From hilarious observations about everyday life to daring social commentary, our talented comedians promise to leave you in stitches.

Stay tuned for this week's lineup...

Come and experience the joy of guilt-free laughter and make unforgettable memories with friends and family at this one-of-a-kind weekly comedy extravaganza in Nundah!

Expect the best and brightest from all over, from relatable anecdotes to clever satire, our comedians will keep you entertained throughout the night.

So, mark your calendars and head to the newly renovated Royal Quarters, for an evening filled with joy, positivity, and of course, guilt-free laughter!

Tickets are limited, book yours today...