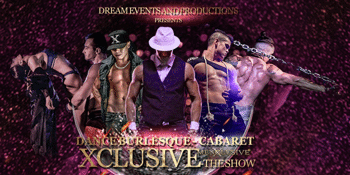 The Wickham & Dream Events and Productions
MenXclusive Cabaret Revue Show
The Wickham (Fortitude Valley, QLD)
Saturday, 3 February 2024 5:30 PM
Menxclusive | Xclusive The Show | Brisbane | The Wickham Hotel
Join us for an unforgettable night of entertainment at The Wickham Hotel,
Menxclusive a Cabaret Called Xclusive The Show "OPENED MINDED SEXY AND GLAMOROUS" Get ready to be dazzled by our talented performers as they bring the heat and excitement to the stage.

An immersive experience combining Circus – Dance – Burlesque taking you on an explosive cabaret across the world. A highly entertaining heart racing cabaret.
Prepare to be captivated by our charismatic dancers, breathtaking acrobatics, and sizzling performances.

A DARINGLY SENSUAL PERFORMANCE A PERFECT FUN FILLED NIGHT OUT No matter what tickles your fancy the show is delightfully enthrulling whether you're celebrating a special occasion or simply looking for a fun night out with friends, Menxclusive | Xclusive The Show is the perfect choice.

With all around cast that will leave you wanting more, and our lively atmosphere will keep you on your feet throughout the night.
Don't miss out on this extraordinary event! Grab your tickets now and get ready to experience the ultimate night of excitement and allure in the heart of Brisbane.